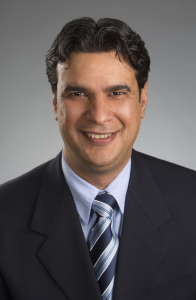 Vishal Bhatia, MD, MBA
Senior Vice President, Chief Medical Information Officer (CMIO)
Vishal Bhatia, MD, MBA, is Senior Vice President and Chief Medical Information Officer (CMIO), working with physicians and hospital staff to support the efficient design, implementation and use of healthcare technology to help improve the quality of patient care. He also leads the company's physician engagement and physician leadership development efforts, including the National Physician Leadership Group and the Physician Leadership Academy.
Prior to starting this new position in January 2016, Vishal had served as a consultant and physician advisor for Capella for two years, leading the development of the company's evidence-based order set templates and physician documentation templates as well as assisting with implementation of CPOE and Electronic Medical Records (EMRs). A board-certified internist, Vishal had been in practice at Capella's Willamette Valley Medical Center in McMinnville, OR, since 2006. He served most recently as medical director of the hospitalist program and has held numerous leadership roles at the hospital, including chair of the department of medicine.
Vishal also serves on the Board of Willamette Valley Health Solutions, an ACO, and is Clinical Assistant Professor of Internal Medicine with Western University of Health Sciences in Pomona, CA. He earned his doctor of medicine degree from Tver State Medical Academy in Tver, Russia, followed by an internship at Northern Railway Central Hospital in New Delhi, India. He completed a residency in internal medicine at The University of Tennessee in Chattanooga, TN. Since then he has earned an MBA with a focus on healthcare from George Washington University in Washington, DC.
Vishal has the unique experience of having successfully navigated healthcare systems in three culturally diverse countries. He is fluent in English, Russian and Hindi.  He and his wife, Lavi, have two daughters, Aanya, 11, and Kaya, 6.