Award Recognizes Outstanding Employers in the Healthcare Industry on a National Leve
(Jacksonville, AL, and Chicago, IL) October 2012 – Jacksonville Medical Center has been ranked #24 in Modern Healthcare's 2012 Best Places to Work in Healthcare awards.  It's the second consecutive year the hospital has been named to the prestigious listing.  The hospital was recognized at an Awards Gala held during the "What's Right in Health Care" conference earlier this month in Nashville.  Jacksonville Medical is a part of the Capella Healthcare family of hospitals.
The magazine's annual Best Places to Work in Healthcare program recognizes employers for creating workplaces in healthcare that enable employees to perform at their optimum level to provide patients and customers with the best possible patient care and services.
"We are truly honored by this award, as we work hard to provide a happy and safe work environment for our employees and physicians," said Jean Ann McMurrey, Chief Nursing Officer of Jacksonville Medical Center, who attended the banquet along with several other staff members. "Our inclusion on this list, two years in a row, means we have engaged, satisfied employees, which leads to high quality care and happy patients."
Fawn Lopez, vice president and publisher of Modern Healthcare, said: "Being named to Modern Healthcare's list of the Best Places to Work in Healthcare for 2012 demonstrates that Jacksonville Medical Center has built a culture where employees are supported and engaged, which benefits not only patients and customers but the employer's overall performance as well. These healthcare employers are models for others who are seeking to build a successful culture, resulting in optimum performance levels and benefits for their organization."
This year's recognition program had 340 applications from healthcare companies across the nation. Modern Healthcare revealed the ranked order of 100 Best Places to Work in Healthcare for 2012 at a banquet in Nashville on Oct. 9 that was attended by more than 450 healthcare professionals, including 83% of the winning organizations.  The complete ranking is being shared in a special supplement of the Oct. 15 issue of Modern Healthcare, which will recognize the top places to work by company size and will profile some of the recipients.
The list was compiled using information gathered from employers and employees of companies with at least 25 employees as part of a no-cost application process. For the application, employers completed a survey detailing their policies and practices, benefits, and employee demographics.  Meanwhile, employees were asked to evaluate their employer in eight areas, including:  leadership and planning, culture and communications, role satisfaction, working environment, relationship with supervisor, training and development, pay and benefits, and overall satisfaction
Jacksonville Medical is a part of the Capella Healthcare family of hospitals.  "This award is a great honor and a true reflection of the culture of empowerment and engagement that the leadership team and all employees have worked so hard to establish," said Dan Slipkovich, CEO of Capella Healthcare.  "I am so proud of our colleagues at Jacksonville Medical Center for being chosen, for a second year in a row, for Modern Healthcare's prestigious list of Best Places to Work."
A video announcement, along with a ranked listing of the winners is now available at www.modernhealthcare.com/bestplaces
About the Award Program
Modern Healthcare partnered with Best Companies Group, a PA-based firm that administers "best places to work" programs nationwide.  Modern Healthcare conducted this program to recognize outstanding employers in the healthcare industry on a national level.  From economic development to employee retention, being named one of the Best Places to Work in Healthcare benefits individuals, organizations and the healthcare industry.
About Modern Healthcare
Modern Healthcare is the industry's most trusted, credible and relied-upon news source.  Modern Healthcare examines the most pressing healthcare issues and provides executives with the information they need to make the most informed business decisions and lead their organizations to success.  It's for this reason Modern Healthcare is deemed a "must-read publication" by the who's who in healthcare.
Best Companies Group works with partners to establish "Best Places to Work", "Best Companies" and "Best Employers" programs on a national, state-wide and regional basis.  Through its thorough workplace assessment using employer questionnaires and employee satisfaction surveys, Best Companies Group identifies and recognizes companies who have been successful in creating and maintaining workplace excellence.
About Capella Healthcare
Capella Healthcare partners with communities to build strong local healthcare systems that are known for quality patient care. Based in Franklin, Tenn., Capella owns and/or operates 15 acute care and specialty hospital facilities in seven states. With the philosophy that all healthcare is local, Capella collaborates with each hospital's medical staff, board and community leadership to take care to the next level. The company has access to significant leadership and financial resources, investing in its family of hospitals to strengthen and expand services and facilities. For more information, visit the website at www.CapellaHealthcare.com.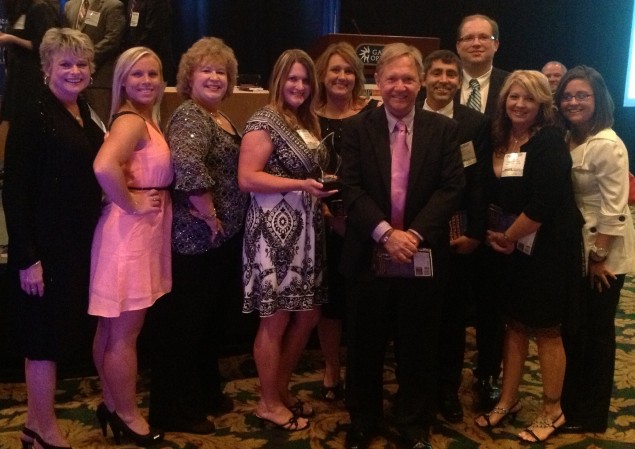 A group of staff members from Jacksonville Medical Center and Capella Healthcare attended the Awards Gala at which the hospital was honored for its #24 ranking on the Best Places to Work in Healthcare listing.  Pictured here with Quint Studer, founder of the Studer Group, are:  Beverly Love, Kristy Jackson, Jean Ann McMurrey, Christina Millwood, Kelley Catoe, Quint Studer, Doug Scott, Anthony Scott, Stacy Carroll and Andria Lowery.  A recipient of the 2010 Malcolm Baldrige National Quality Award, Studer Group works with healthcare organizations teaching them how to achieve, sustain, and accelerate exceptional clinical, operational, and financial outcomes.