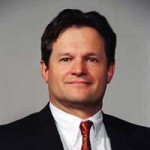 Dan Slipkovich, Co-Founder and Chief Executive Officer of Capella Healthcare, has been named recipient of the National Outstanding Eagle Scout Award. The surprise presentation took place this morning at the corporate offices of Capella Healthcare in Franklin, TN.
The award was presented by Hugh Travis, Scout Executive and CEO of the Middle Tennessee Council, Boy Scouts of America . "Dan was selected from among 13,000 Eagle Scouts in our 37-county region which extends into Fort Campbell, Kentucky," Travis said. "The Outstanding Eagle Scout Award is a prestigious recognition granted to Eagle Scouts who have demonstrated outstanding achievement at the local, state, or regional level. Dan was selected due to his intense commitment of sharing with the community what Scouting did for him and ultimately his career."
"Honor, duty, helping and respecting other people are all values that resonate in Scouts, and values that reflect who Eagle Scout Dan Slipkovich is. Leadership is about living the mission and values and setting the example through honesty, truthfulness, integrity, courteousness, and thriftiness. Dan epitomizes those values. An Eagle Scout at age 13 in Troop 1452 and an Eagle Scout today 40 years later, Dan was selected from 13,000 Eagle Scouts for his outstanding record of service, professional accomplishment and living the Scout oath and Law every day."
This is the first year the National Outstanding Eagle Scout awards have been presented. There were a total of four Eagle Scouts chosen to be honored in the mid state, Travis said. The other three, who were notified earlier this year, include U.S. Magistrate John S. Bryant, Major General John Campbell, former commander of the 101st Airborne Division and Booty Reed, national leader in urban housing and community development. All four will be honored at a reception scheduled for November 10.
Slipkovich credits Scouting with having made a significant difference in his life, impacting both his personal values and professional accomplishments.
"Through my scouting years, I learned an innumerable number of things," he says. "When you come down to some of the basics, it's about treating people how you expect to be treated and dealing with things in a very open and honest fashion. It didn't really hit me until mid-career that those things I learned during those earliest years were core values. I'm always proud to say that I'm an Eagle Scout and still participate in a big way in Scouting. It's something that has made a difference in where I am in business these days."
Slipkovich co-founded Capella Healthcare in 2005, following a distinguished career serving in a variety of healthcare leadership positions, including with HCA and Province Healthcare. Based in Franklin, TN, Capella is a private company that owns and/or operates 15 hospitals in seven states. He serves the industry in a variety of professional leadership positions, including as a member of the Board of Governors for the Federation of American Hospitals. Outside his work in healthcare, Slipkovich has been active with a number of non-profit organizations in addition to the Middle Tennessee Council of Boy Scouts, including Association of Retarded Citizens, American Heart Association, and the Nashville Ballet, which he has served as President.
Assisting with the presentation were Ray Capp, Chairman of the Alumni Committee, and Tim Acree, National Eagle Scout Association Chairman. Slipkovich's wife Lisa and their two sons, Sam and Jake, were in attendance along with Capella's corporate staff.
About Capella Healthcare
Based in Franklin, Tenn., Capella Healthcare owns and/or operates 15 general acute-care hospitals in seven states. With the philosophy that all health care is local, Capella collaborates with each hospital's medical staff, board and community leadership to take care to the next level. The company has access to significant leadership and financial resources, reinvesting 100% of net cash flow into its family of hospitals to strengthen and expand services and facilities.
About The Boy Scouts of America
The Boy Scouts of America provides fun, adventure, and moral values that last a lifetime. In Middle Tennessee, nearly 38,000 youth and adults participate in Cub Scouts, Boy Scouts, co-ed Venturing Crews and Exploring Posts every year. The Middle Tennessee Council serves local youth from first grade to age 20 in a 37-county area, plus Fort Campbell, Kentucky. For more information, visit the website at www.mtcbsa.org