Dan Ordyna Appointed Chief Executive Officer for Willamette Valley Medical Center
COO to Move Up Following Retirement of Long-Time CEO Rosemari Davis
McMinnville, OR – Dan Ordyna has been named Chief Executive Officer for Willamette Valley Medical Center (WVMC) by the hospital's Board of Trustees and Capella Healthcare, effective June 1.  He is to move into the role following the retirement this spring of long-time CEO Rosemari Davis, who retires on June 1.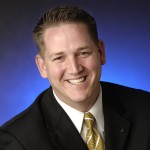 The announcement was made jointly today by Dr. Marion Hull, Chairman of the hospital's Board of Trustees, and Mark Medley, President of the Hospital Division of Capella Healthcare, of which WVMC is a part.
"With the challenges and opportunities the healthcare industry is facing during the coming years, having the right leaders in place is more vital than ever before, which is why we conducted a nationwide search for the new CEO," Medley said.  "Dan's experience, passion for excellence, leadership savvy, and intimate knowledge of WVMC and the region uniquely position him to lead the hospital in building upon its past achievements to ensure its future success."
With 10 years of progressive experience in varied healthcare leadership roles, Ordyna has for the past five years been Chief Operating Officer of WVMC.  Prior to joining WVMC, he was Corporate Director of Development with Triad Hospitals in Dallas, TX.  Before that he was Administrator of Desert Samaritan Surgery Center in Mesa, AZ and also worked with HealthSouth Corporation.
Ordyna completed both his undergraduate and masters' degrees in accountancy at Brigham Young University.  Additionally, he earned his Juris Doctorate from University of Idaho College of Law.
Active in the McMinnville community, Ordyna is a Charter Representative of the Boy Scouts of America, serves on the boards of McMinnville's Kid's on the Block–After School Program and on WVMC's Cancer Center Foundation.  He is a member of the American College of Healthcare Executives (ACHE), the nation's leading professional society for healthcare leaders.  Dan and his wife Holly have five children, Kambree, 13; McKay, 11; Hunter, 8; and twin sons Benson and Brigham, 4.
"We certainly want to take this opportunity to thank Rosemari Davis again for her life-long commitment to serving others and for leading WVMC for the past 16 years," said Dr. Hull.  "Rosemari will continue to be in and out of the hospital over the next several weeks providing continued support to Dan and the entire organization in midst of the transition.  We look forward to celebrating Rosemari's career and service at WVMC with her, her family and hospital associates at a reception being planned for June 23."
About Willamette Valley Medical Center
Located in McMinnville, Oregon, Willamette Valley Medical Center (WVMC) is an 88-bed acute-care, full-service facility, fully accredited by The Joint Commission. The hospital employs over 400 people at its current modern facility, which was built in 1996.  WVMC features a 24-hour Emergency Department with round-the-clock imaging and laboratory services, a 63-bed Medical/Surgical unit and a 19-bed Critical Care Unit. WVMC also provides a host of other services including a full spectrum of inpatient and outpatient Surgical Services, a family Birthing Center, Endoscopy, Cardiac Catheterization Lab, Cardio Pulmonary Services, Breast Center, Sleep Lab,  and Therapy Services. In addition, the hospital offers specialty services in the H. R. Hoover, MD, Cancer Center and the Wound Care Center.  For more information, visit www.WVMCweb.com
About Capella Healthcare
WVMC is a part of Capella Healthcare, which partners with communities to build strong local healthcare systems that are known for quality patient care. Based in Franklin, Tenn., Capella owns and/or operates 13 general acute-care hospitals in seven states. With the philosophy that all healthcare is local, Capella collaborates with each hospital's medical staff, board and community leadership to take care to the next level. The company has access to significant leadership and financial resources, reinvesting 100% of net cash flow into its family of hospitals to strengthen and expand services and facilities.  
For more information, contact:
Willamette Valley Medical Center:  Rosemari Davis, CEO – 503-435-6321
Capella Healthcare:  Beth B. Wright, VP-Corporate Communications – 615.764.3010