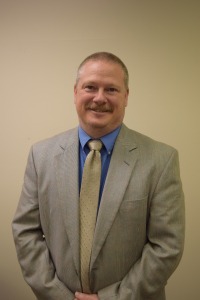 Nathan "Nate" Lawrence, BSN, RN, has been promoted to Chief Quality Officer (CQO) of EASTAR Health System, effective today, according to Tony Young, EASTAR's Chief Executive Officer.
Lawrence's entire professional career has been spent serving the people of Muskogee, OK, where he began work in 1990 as an EMT with Muskogee County, EMS.  He earned his associate's degree in nursing in 2000, moving into a position as staff nurse in the ICU at EASTAR Health System.  He was promoted to Medical/Surgical Team Leader of the 42-bed surgical floor unit in 2007, then to Quality Improvement Specialist in 2008. In 2015, he was promoted to Quality Improvement Manager. He took on additional responsibilities as Interim CQO late last year.
Lawrence earned a BSN in 2008 from Oklahoma Wesleyan University in Bartlesville.  He is beginning a master's degree in healthcare quality this August at University of Alabama.
Lawrence and his wife Sandra have four children and two grandchildren.  He's active in the First United Methodist Church of Checotah and enjoys NASCAR racing and camping.
About EASTAR Health System
Located in Muskogee, Oklahoma, EASTAR Health System is part of the Capella Healthcare family of hospitals. EASTAR is a comprehensive 320-bed two-campus health system fully accredited by The Joint Commission. The EASTAR Main campus (formerly Muskogee Regional Medical Center) was one of the first hospitals established in Oklahoma, and has grown to become one of the state's largest and most comprehensive facilities. In addition to its nationally accredited cancer program, the hospital is also certified as a Level III Trauma Center and Primary Stroke Center. The EASTAR East campus (formerly Muskogee Community Hospital) opened in 2009 as the first hospital in the nation to earn LEED-Gold for New Construction. To learn more, visit www.EASTARHealth.com